Ben jij ook 40-up? En ben jij toe aan meer energie/een fit lijf/een veerkrachtige(re) mind en klaar met bankzitten vanwege het afgelopen jaar? Wij snappen dat helemaal! Daarom hebben we een trainingsprogramma ontwikkeld speciaal voor de doelgroep , 40 up !!! Er is plek voor 12 deelnemers per groep (in totaal 1 groep enkel mannen en 1 groep enkel vrouwen ).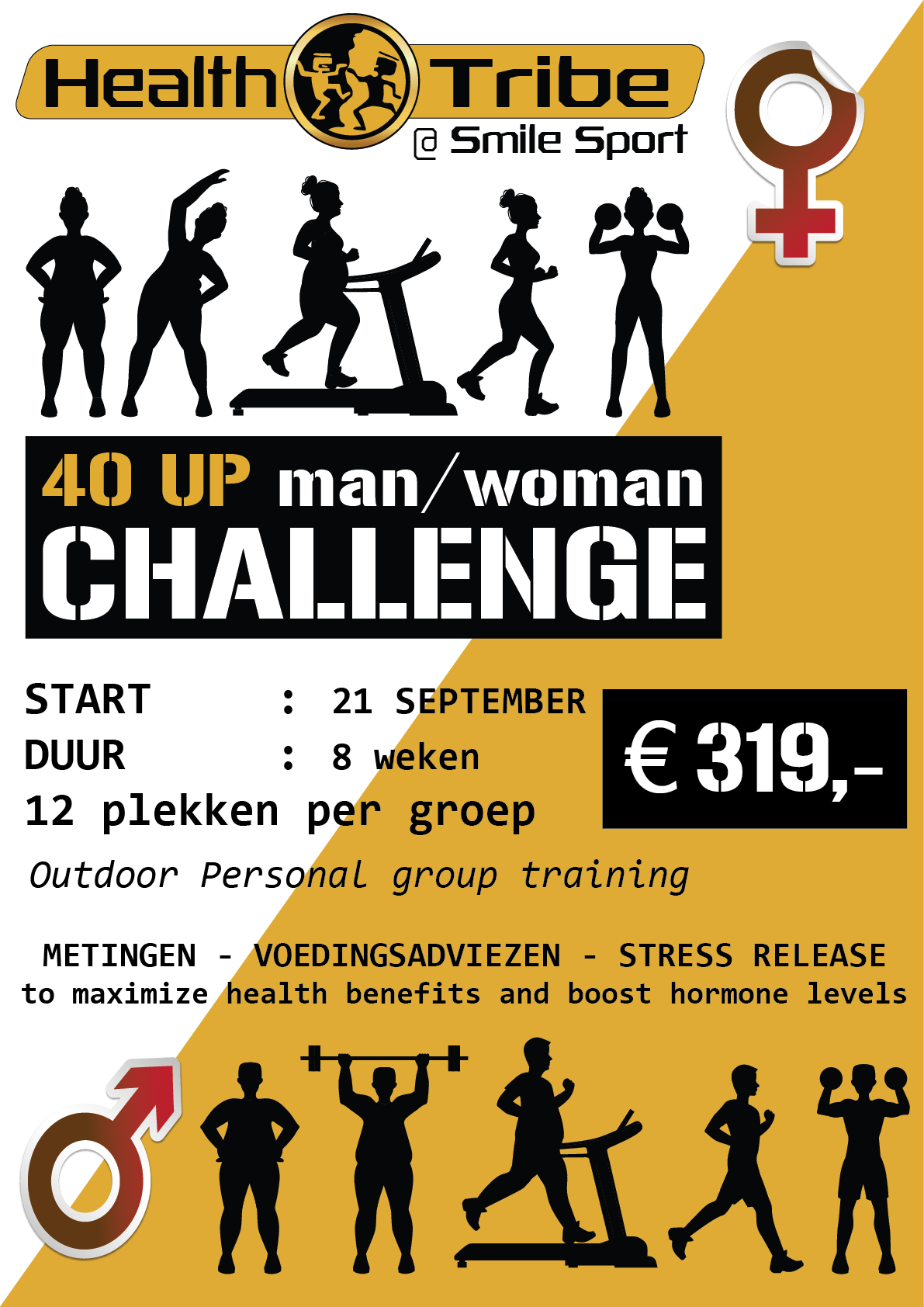 De cursus zal worden gegeven door onze trainers Kenneth en Patricia.
Patricia kent misschien nog niet iedereen dus even een kleine introductie: P
atricia 
heeft 15 jaar ervaring met het geven van sportlessen en is hormoonfactortrainer waarbij ze voeding, training en stressbeperking vanuit het hormonale systeem bekijkt. Daarnaast is zij bekend met lesgeven en coaching als docent en onderwijskundige. 8 weken lang train je 2x per week met gelijkgestemden onder begeleiding van Kenneth (mannen) of Patricia (vrouwen).  Middels een voor-, tussen- en nameting zullen we je doelstellingen monitoren.
 Ook krijg je via een besloten community toegang tot informatie over voeding, training en stressbeperking, zodat je handvatten aangeraakt krijgt om ook na de challenge in je gezondheid te kunnen blijven investeren.  Daarnaast is er ruimte om met de trainers een afspraak in te plannen als je daar behoefte aan hebt. You got this and we got your back!
Wat kun je van ons verwachten?
Kennis, passie , persoonlijke begeleiding en vooral veel plezier! We heten niet voor niks SMILE sport.
Wat verwachten wij van jou? Een intrinsieke motivatie, zodat wij je kunnen helpen je doelen te bereiken.
Welke kosten zijn hier aan verbonden? €319– . Dit is inclusief 8 weken 2x per week begeleid met gelijkgestemden trainen, een besloten community waar kennis wordt gedeeld en uitgewisseld en het inloopspreekuur.Heb je tijdens de challenge de smaak te pakken gekregen en wil je blijven trainen bij SMILE?
Dan krijg je van ons een korting van 100% op het inschrijfgeld.
Ben je geïnteresseerd of heb je een vraag? Bel of mail ons!